Implementing the right phone solution is vital to any business, big or small. Whether it's to build and maintain relationships with clients – or to internally connect employees – a reliable voice system remains essential to the day-to-day running of your corporate operations.
Finding the right solution largely varies from business to business and depends on the typical rate of daily calls you experience. For instance, for a smaller business, a sophisticated multi-site structure might not be the most appropriate option unless it's a rapidly expanding organisation.
The good news is that there are a range of phone solutions for businesses, and choosing the best one might result in reducing call costs significantly.
VoIP phone systems
Voice over the Internet Protocol (VoIP) or IP telephony is a popular form of communication technology which allows you to make high-quality calls over the internet.
A VoIP phone system, which uses internet protocols, results in businesses not having to depend on using the traditional telephone exchange network (or phone line) which is to be ceased as of 2023 by Openreach.
Adopting a VoIP phone system makes moving offices a whole lot easier for businesses because phone numbers on a VoIP platform are not restricted by telephone exchange location.
Provided a business has the right set-up and a reliable internet connection, this form of technology can offer additional advantages over traditional telephone systems, whilst greatly decreasing phone bills.
Aside from VoIP often being affordable and more flexible than traditional on-premises solutions, some other key benefits include:
Possibility for remote operation and free calls between locations
Higher quality call sound
Portability is key as you can keep numbers when moving offices
Easy to increase capacity as the business grows
Ability to operate voicemail and voicemail to email
Using call waiting and forwarding
Inexpensive and easy to add additional lines
SIP trunks and channels
SIP trunks and channels are increasingly becoming the 'go-to' telephone service option for many UK businesses, no matter their size.
Often used and confused with VoIP systems, a SIP trunk (Session Initiation Protocol) also uses internet protocol, unlike the PSTN (Public Switched Telephone Network) and ISDN (digital) lines.
In addition to managing voice calls as VoIP does, a SIP trunk system can also send and receive multiple forms of data such as multimedia, video calls (ideal for video conferencing), instant messaging and media distribution.
If your business is seeking an all-round communications solution through a single service provider, SIP trunking is a great option – especially as the nature of communications is rapidly advancing in our modern world.
SIP channels are easy to implement and result in lower costs than PSTN/ISDN services, often with no activation costs. It's estimated that compared to ISDN line rental, using SIP reduces costs by around 50%. There are no installation fees, no extra costs to increase user capacity, and adjusting the amount of SIP channels you connect with is easy, quick and free to manage.
Calls made via SIP within your organisation are free, even for homeworkers. If you use SIP trunks in all locations, this will even include international sites across the globe.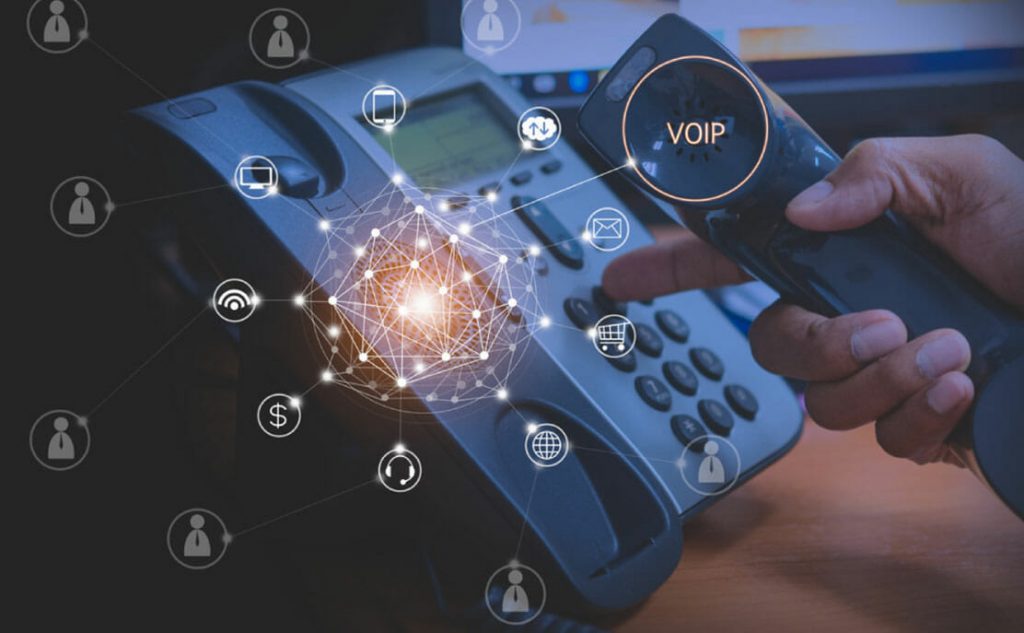 Business phone lines
Traditional business phone lines are still widely used, but it's crucial to make sure you find the right provider and package.
Whether you're looking into transferring your existing line or add a new one, there are a variety of phone line options available to suit a range of business requirements.
The following phone line choices are predominantly catered to smaller businesses.
PSTN Analogue Line
Analogue lines remain the most common type of phone line used by businesses, despite often having higher rental charges than VoIP. A PSTN analogue line can fulfil the basic business operations such as voice, broadband, PDQ card machines and alarms.
If you are looking for a simple voice system, PSTN analogue lines are a good option.
However, scalability can be limited and costly. Equally, if you're sharing broadband and telephony over the same analogue line, this could result in you needing a multi-line service, particularly if your business grows.
Multi-PSTN Analogue Line
A multi-PSTN analogue line is more appropriate for smaller businesses who are simply looking for a basic voice system. This is because they provide one main number which is shared over additional lines to enable simultaneous calls.
ISDN2e
ISDN2e (Integrated Services Digital Network) is a digital line which is suitable for smaller businesses. It allows you to connect multiple channels in pairs which can be used to make separate calls (like having two regular lines in one).
On an ISDN2e you can have up to 8 channels – having more would not be so cost-effective and other solutions which are available and more suitable.
Although this service can be connected for video conferencing, it can be a more complicated process than using other services, such as SIP trunks and channels.
What phone system is best for my business?
There is no straightforward, definitive answer to this question, since each business has its different demands.
When thinking about your phone system, it is worth answering the following questions:
How many employees will be using your phone devices?
Is it likely that your business premises will change?
How rapid is your business growth?
Do you need additional services/ features such as internet or video calling?
What is your budget?
What is your current data connection like?
Structured Communications can offer free advice to promote your business call savings. We have been able to save clients' call-spends by up to 70% by providing honest, expert knowledge.
From a single phone line to a fully-managed, multi-site system, we can install and maintain a highly efficient communications network for your business needs. We excel in delivering secure and reliable services through using our own specialist network, designed by our expert engineers.