With a huge range of providers, packages and broadband options, it's easy to find looking for the best, and most cost effective, fibre optic deal for your small business slightly daunting. However, with a little guidance and research, finding the cheapest and best quality broadband deal is relatively simple.
No matter the size of your business, a fast wifi connection over broadband is a necessity. In order to be both reliable and efficient, you need to be able to have complete confidence in your internet connection, without the worry of lagging speeds or failing to connect entirely.
However, whilst larger companies can rely on the costly luxury of a leased line, this quite often isn't an option, and just isn't necessary for a small business, which is where the latest technology of fibre optic broadband comes in.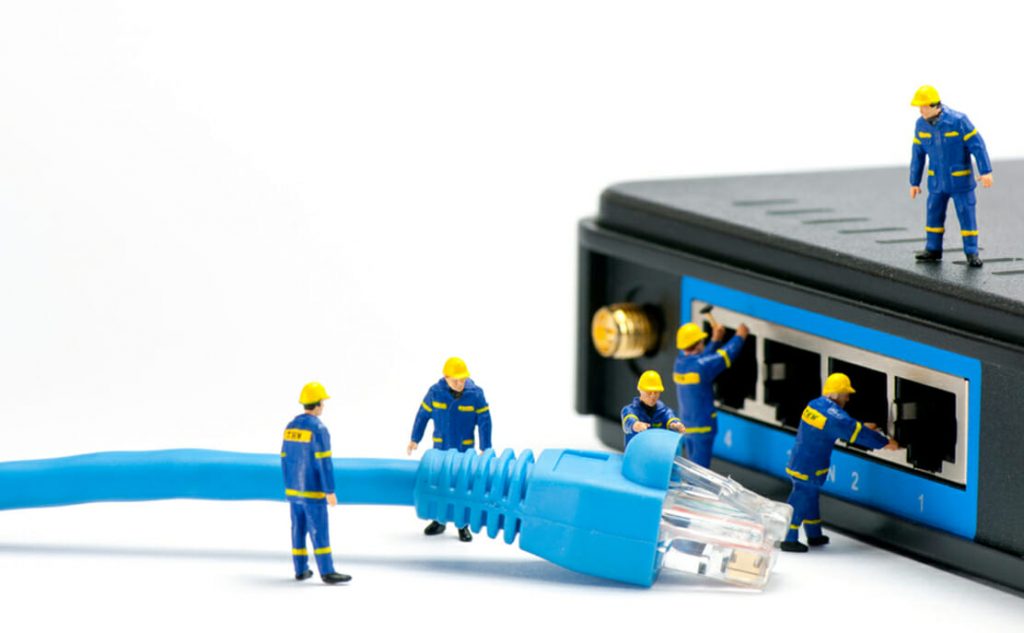 Why is fibre optic best for small businesses?
Whilst there are other options when it comes to internet, fibre optic is definitely a favourable option for small businesses. Whilst these alternatives may often be a little more cost friendly, they are considerably slower. When your business relies on being easily contactable, slow connection speeds can be deadly – you don't want to miss a vital email because your internet is down.
Should you be paying for business broadband?
One way to reduce the cost of fibre optic broadband is to opt for a "home" service rather than business. Whilst most business packages have a few very helpful extra features, sometimes this isn't necessary if your company doesn't rely on the internet too much and aren't worth the extra cost.
For example, amongst other perks, business broadband deals will usually offer a priority customer support service, meaning if something did go wrong, you'd have an expert on hand to fix the problem as soon as possible and you'd be given priority over home users.
If your business is on the smaller side and doesn't rely on the internet for custom, then priority customer support might not be necessary, meaning you could save some money by going for a home broadband deal rather than splashing out on business.
However, if a slick website is essential to your company, business broadband may be a worthy investment. One of the perks included with many business packages is a static IP address, meaning that unlike on home broadband, your IP address will never change which is essential if you want to host your own website.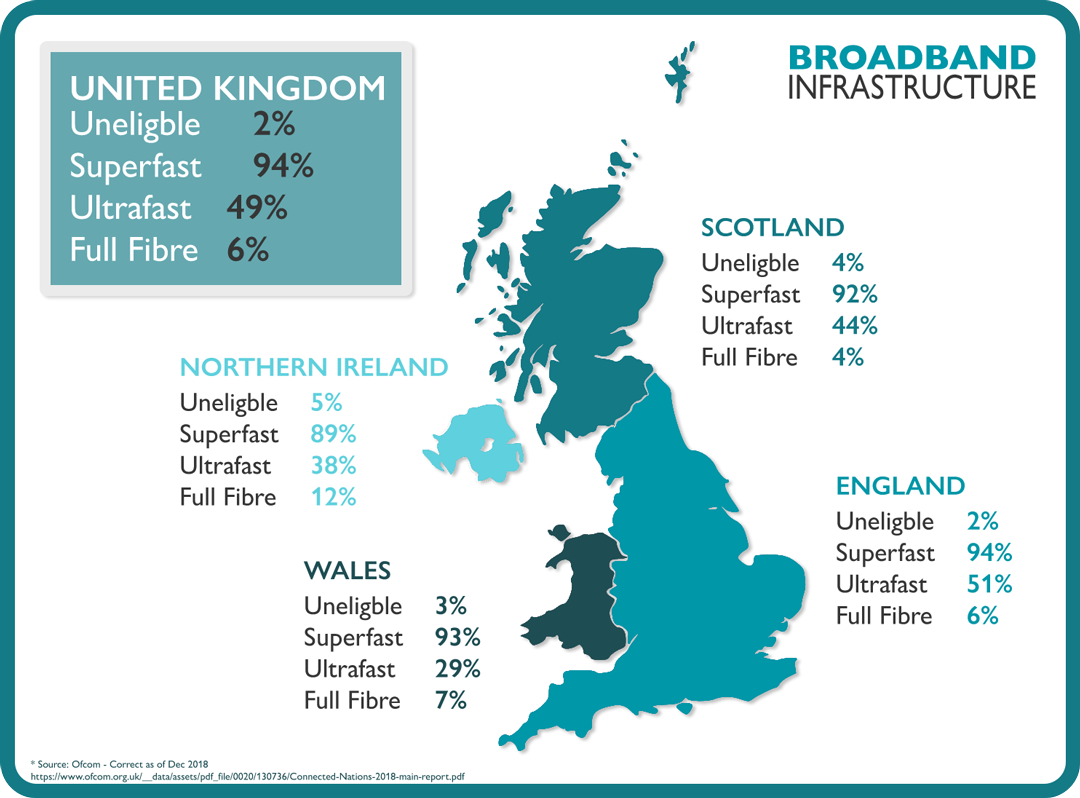 FTTP or FTTC broadband?
The two types of fibre optic broadband offer two very different price points – not knowing the difference and what's right for you could land you with a hefty bill. The newer FTTP (Fibre to the premises) offers the fastest broadband connection available in the UK. Using pure fibre cables, FTTP is the latest in broadband technology, but it is still not available in all locations, with the Government having recently unveiled plans for it to be available to 3 million more homes by 2020. However, great speed also comes with a great cost; FTTP is far more expensive than other broadband options.
On the other hand, FTTC (Fibre to the cabinet) uses a combination of copper and fibre cables, resulting in a slower but cheaper connection. If you're looking for a new broadband package for your business, it is worth considering whether or not you really need to foot the cost of the fastest internet in the country. If you can sacrifice a little bit of speed for a lower cost, FTTC might be a good option.
If you're really looking to get the absolute cheapest broadband option, you could even look into an ADSL (asymmetrical digital subscriber line) broadband package. Relying solely on copper wires, ADSL is admittedly faster than older dial-up or landline connections, but is still significantly slower than both FTTP and FTTC. It is also far less durable than the fibre optic cables, as the copper wires can be prone to corrosion, causing connection issues.
Whilst opting for ADSL could save you money initially, it is essential to consider underlying costs: will your business be affected by a slow internet connection? Will you have to fork out to repair broken or damaged wires?
Do your research on the best deals
This may be a given, but with such a saturated market when it comes to broadband, it will pay to do your research. Location is key when looking for a new fibre optic provider, as the area in which you're is based will determine what providers and types of broadband you can have.
For example, as previously mentioned, FTTP broadband is not widely available, with only around 10% of the country currently using the technology. This means that whilst you may get a cheaper deal with one provider, in the long run it will not be cost effective as you could easily suffer from a slow connection.
When looking for the cheapest fibre optic deal, your research should also include the finer details. Don't simply opt for the first deal with the cheapest price tag: make sure you read the small print and ensure the services provided, and any extras included are suitable for your business.
It is also worth trying to find extra ways of saving a few pennies even after you've chosen your fibre optic broadband provider and package. For example, some will allow you to pay for extra costs such as line rental upfront, cutting your monthly fees.
It is also very worth noting that cheapest isn't always best. Obviously as previously mentioned, lower costs often mean sacrificing internet speed, however there are many other things to consider in your search for a new broadband deal. For example, if your business were to host meetings via Skype, you need to rely on your server not being down. If this is the case, looking for a broadband provider that has high quality bandwidth management may be more cost effective in the long run, rather than opting for the cheapest upfront deal.
Use the online tools on offer
The internet is awash with price comparison sites, and they are often a very helpful starting point in your search for a budget friendly fibre-optic broadband deal. Collating a huge list of the providers and deals available to you, the merits of comparison sites are not to be ignored.
However, when looking for the cheapest deal it is worth searching a few of these sites rather than relying on just one. One site could push you towards the provider they earn more money from, or they may not include some deals altogether. Be wary of the way that price comparison sites work, and they can be the biggest ally on your hunt for a cheap fibre optic broadband deal for your business.