Communications technology has drastically advanced over the years, and this continues to be the case. In terms of telephony, BT Openreach has committed to the ending of PSTN and ISDN services by 2025. Announcing the switch-off date now means that businesses have a number of years to implement alternative phone solutions.
Aside from representing a progressive switch from analogue or digital to fibre, one of the main reasons Openreach has chosen to decommission PSTN and ISDN connectivity is because fewer people are using these services to make calls. People are now heavily reliant on using broadband services to make and receive calls.
Many companies have already switched to IP-based phone solutions, such as VoIP or SIP Trunking, particularly in London. Such solutions offer many business advantages and are continuing to grow in demand.
What is PSTN and ISDN?
Operated by the local telephone exchange, PSTN (Public Switched Telephone Network) is often more simply referred to as the 'phone line'. This service uses phone lines, or cables, to transmit analogue voice signals.
PSTN uses one dedicated line and one telephone to make and receive calls, as you would in a home or small office. When businesses rely on PSTN, each employee requires a separate phone line, which can be costly to install and run. This is one reason why VoIP is now a preferred choice for many corporations.
ISDN (Integrated Services Digital Network) uses digital transmission to provide voice services, over more than one channel. Unlike PSTN, ISDN technology allows businesses to increase the number of lines, or channels, to suit their demands. An ISDN setup can provide two channels by default. These can be used separately for making and receiving calls – like having two regular phone lines in one.
Although this form of telephony can be used to transfer other types of data, the rise of simpler cloud-based solutions has overshadowed ISDN in more recent years.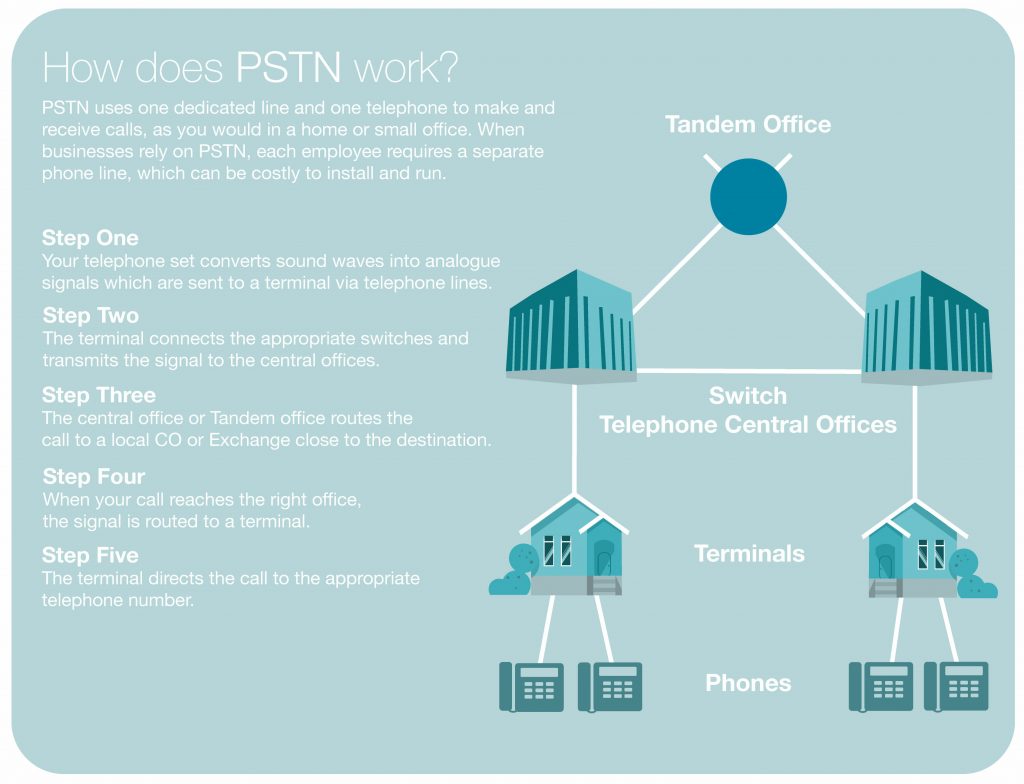 What are the alternatives to Openreach ISDN and PSTN services?
The increasing preference for IP-based solutions has led to the development of several affordable phone solutions for all types of businesses. Two of the most widely used alternatives include VoIP and SIP trunking and channels, which both rely on internet connectivity.
VoIP phone systems
Voice over Internet Protocol (VoIP) provides users with a telephone system which is capable of handling high-quality audio over the internet – as opposed to the traditional telephone network.
Higher audio fidelity aside, a VoIP phone system can deliver many other benefits. Probably the most notable of these is a significant reduction in call costs and infrastructure. Because VoIP leverages the internet, the cost of installing additional phone lines is eliminated. Free calls can also be made between all company locations – no matter where in the world personnel are located. Adding additional connections as a business expands will also be easier and cheaper, compared with a traditional set up.
Not having a fixed phone line introduces flexibility: even if you move offices, you can keep the same phone number. In addition, multiple devices can be used to connect people once they have access to the system – whether it's a mobile, tablet or desktop PC.
Beyond this, there are various other advanced features such as voicemail-to-email services and call waiting or forwarding.
SIP Trunking and Channels
SIP (Session Initiation Protocol) provides a telephone service over an internet connection, meaning a fixed line again becomes redundant.
A key feature which differentiates a SIP trunk system is that it can be used to transfer voice data and other forms of data such as multimedia, instant messaging and video conferencing.
SIP channels are ideal for businesses. They are free and easy to setup, meaning user capacity can be adjusted to meet an organisation's needs. Since calls made via SIP are completely free between the same company – even to international locations – call charges can also be significantly reduced.
Advantages of SIP and VoIP for businesses
There are various advantages which businesses can embrace when investing in a reliable VoIP or SIP phone system. These include:
Reduced costs – no installation or engineering fees, or direct call costs;
Easier maintenance – in terms of managing data, fixing problems and scalability;
Increased flexibility – you can adjust you telephone user capacity, move between company locations and keep the same number;
Quick and easy installation – no physical line installation is required, all you need is a network.
Upgrade your business telephone service
There is no need to rush into changing your telephony systems; there is still plenty of time before the Openreach switch-over begins. However, it's worth researching and considering future, long-term options, especially IP solutions which afford many benefits for all types of business.
With VoIP and SIP solutions, it is of vital importance to choose the right service provider so that your broadband is effective and consistent.
Structured Communications are telecommunications experts who can implement new voice systems for all types of businesses. They can reduce your call spend by up to 70% and provide a free, no-obligation audit on your current line.