When on the hunt for a new fibre-optic broadband provider, it's important to make an informed choice. If you've already decided that FTTP (fibre to the premises) is the right broadband solution for you (and you've confirmed that it's available in your area), then the first bit of hard work is done. Now you must decide on the best provider and deal.
As with any important purchase, what's 'best' is entirely subjective and dependant on your – or your business' – needs. For example, your neighbour may want the cheapest package possible, whereas obtaining the fastest speed may be more important to you.
With just a little research, you'll be well on your way to making a firm decision on which fibre-to-the-premises provider is best suited to you.
What is fibre to the premises?
More commonly referred to as FTTP or FTTH (fibre to the home), fibre-to-the-premises is the fastest consumer broadband solution available in the UK. FTTP networks utilise fibre optic cables throughout the distribution network directly into your home or office, rather than copper cables from an on-street cabinet or telephone exchange.
Users on an FTTP connection get to experience typical download speeds of up to 330Mbps, and even faster under specific circumstances.
Although FTTP makes it possible to attain impressive download speeds, it is not without its drawbacks. At the time of writing (March 2019) it is currently available to fewer than 1 million premises across the UK. Despite government plans to roll out to an additional 3 million homes by 2020, this means FTTP will still only be available to a small minority.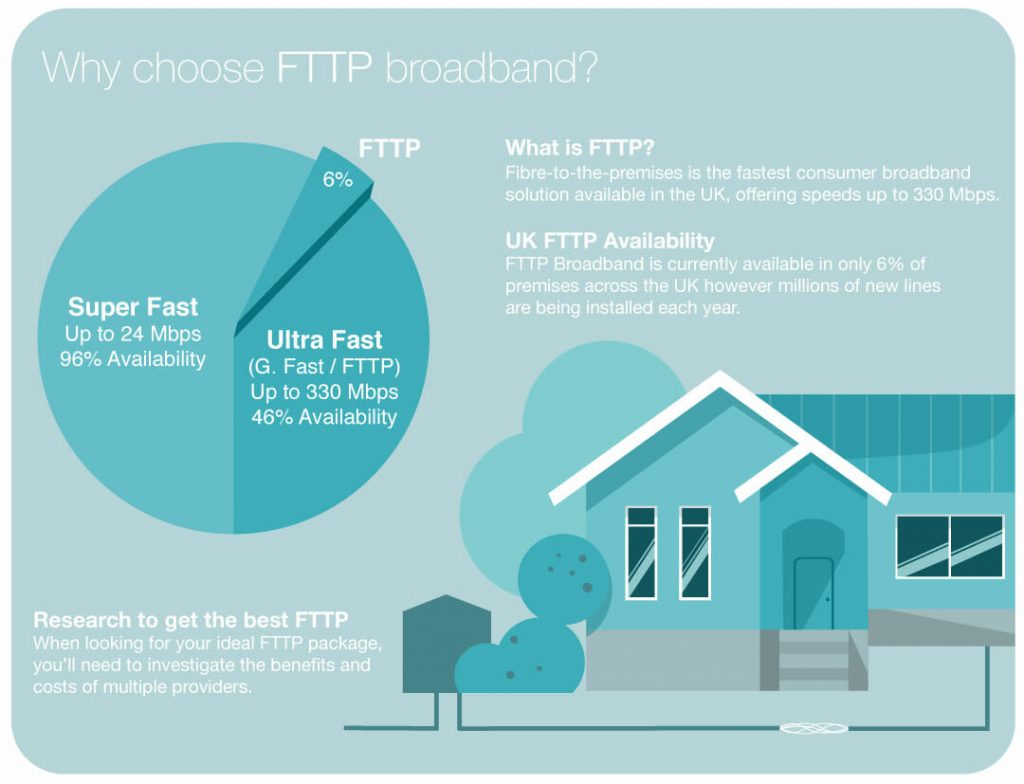 Is the cheapest FTTP service provider always best?
When looking for an internet provider, we all want a good deal. However, opting for the cheapest provider may not always be the most worthwhile decision.
It's recommended that you consider why a provider is offering a cheap deal: are they lacking the level of customer support you'll need? Are you at risk of experiencing inconsistent speeds or drops in service? Whilst FTTP may be able to mitigate some issues to a degree, it's still worth considering.
You should also be mindful of hidden costs, especially when the monthly fee seems quite low. Are you going to incur a hefty installation fee? If you decide to exit your contract early, will you end up paying an irritating cancellation fee?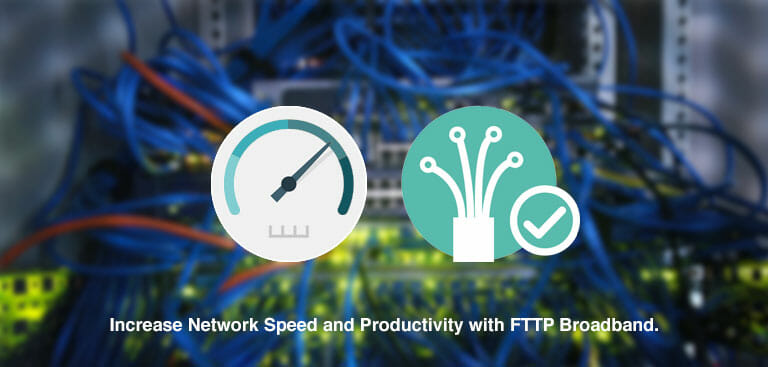 Looking for a business FTTP internet service provider?
Where and how you want to use your connection is another important factor which will impact on your choice of provider. If you want fibre broadband for work, either at the office or your home, then it's worth opting for a provider which offers business packages.
Whilst business broadband packages are usually more expensive, they can contain useful perks for a workplace, e.g. a priority customer service line, which will ensure that problems with connectivity will be fixed as a matter of urgency – which isn't always the case with home broadband connections.
Business broadband packages also come with the benefit of a fixed IP address, which is essential if you need to host your own website or connect directly to your company VoIP Phone System.
Choosing a home fibre broadband provider
Whilst different from business broadband requirements, FTTP for home use can also provide specific benefits to suit your personal needs.
For example, if you are part of a large family which gets through large amounts of data – due to heavy use of streaming services or online gaming – the provider best suited to your needs may differ from that of someone living alone, i.e. one which offers increased bandwidth and a higher data cap versus a (probably) cheaper service which caters to reduced network demands.
Different providers may offer a range of benefits between them. It's best to figure out what you would want to prioritise. For example, some ISPs may guarantee how long network maintenance will take in a Service Level Agreement (SLA); while others may provide an option to restrict internet usage at certain times of the day, which can be great for parents who may have some reservations about allowing their children to have unlimited access to the internet.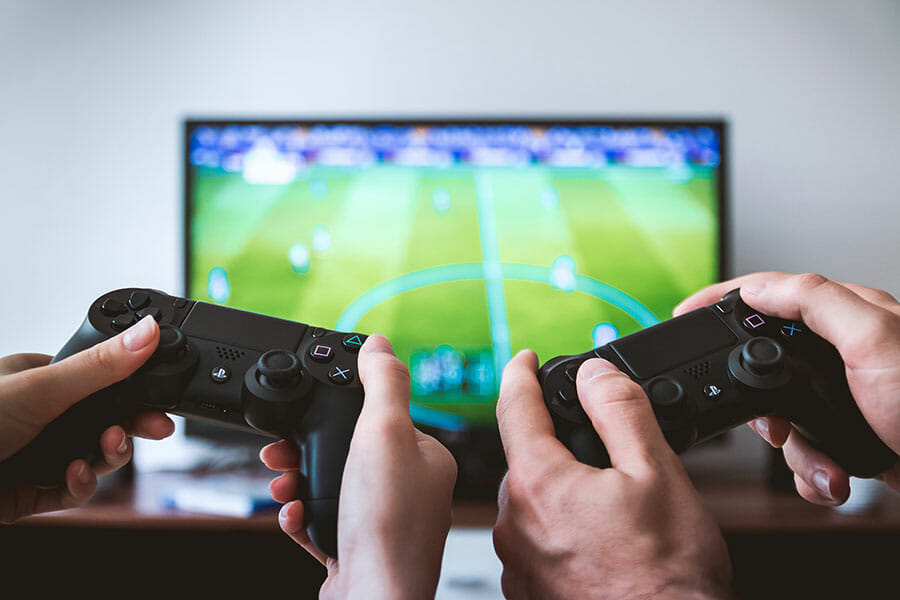 Research the best FTTP ISP deals
When looking for your ideal FTTP package, you'll need to investigate the benefits and costs of multiple providers. While an ISP may have a shiny, impressive website, it may not be clear whether this masks underlying flaws within their products. To mitigate this, try looking through independent review sites to find out about current customers' experiences.
Online comparison sites may also be useful, but make sure you use a few in order to form a broad view of all the FTTP providers and deals available. Bear in mind that some price comparison sites will take a cut from recommended providers, meaning they won't necessarily recommend the fairest deals.