It's essential for all schools to have a reliable phone solution. From liaising with parents and carers to arranging clubs and school trips, school staff require a constant line of communication.
Tighter budgets have become an everyday reality for most schools, so its vitally important that allocated funds are not wasted on an inefficient phone system.
School VoIP systems have become the norm for many schools and businesses across the country, especially as Openreach has committed to shifting millions of UK phone lines to VoIP by 2023. In terms of the school environment, such technology can result in a significant reduction in costs while increasing flexibility, efficiency, safety and security.
What is a VoIP telephone system?
Voice-over Internet Protocol (VoIP) uses an internet connection to enable users to make high-fidelity phone calls, as opposed to alternative phone solutions which rely on the traditional telephone exchange network (or telephone line). Wholesale line rental (WLR) services are being overshadowed, and will continue to be up to 2023 when they'll cease operating.
For schools, investing in a VoIP phone solution can provide a number of advantages. Some of these are explored below.
Flexibility and versatility of a VoIP telephone system
Aside from offering high call quality, VoIP phone systems can offer a completely dynamic communications solution with various features – including voicemail, voicemail-to-email and video conferencing. This gives the potential for teaching staff, external professionals, parents and teachers to cooperate in new and exciting ways. It broadens opportunities for staff training, enables regular updates and means that schools can interact with one another– including the students.
Using a voicemail-to-email service can help develop strong relationships between parents and teachers since a teacher can listen to a voicemail or read a message on a mobile device and respond much more quickly.
With a traditional ISDN phone system, you need to be physically situated in one place (i.e. where the phone is) in order to take an incoming call. A VoIP phone system allows a remote member of staff – who has been set-up to use the system outside of the office – to connect virtually and achieve the same service as though they were at the office desk. This is ideal in a range of scenarios such as on school trips or when teachers take their PPA time from home. It also means that teachers can be contacted away from the school site, without having to offer their personal phone number to parents.
Increasing school safety and security
Safeguarding should be a priority in all schools. A reliable and resilient VoIP phone system can allow school staff to manage their system efficiently so that it's even more safe and secure.
As well as instant messaging, VoIP systems also allow users to create a 'ring group' or 'group page' which will call associated phones simultaneously. In an emergency, this type of service allows teaching staff across a site to remain in a classroom with their students and receive regular updates on a developing situation (e.g. if a lockdown procedure is in operation). It also makes it easier for parents and staff to be systematically notified of an incident – via a PA or tannoy system.
The system can even be utilised during a power outage. If there was absolutely no power across the school, the phones would be offline and could be diverted to mobiles after contacting the service provider.
Reducing school administration costs
VoIP can cut costs in multiple ways. For a start, if a school is considering upgrading its infrastructure to provide a VoIP service, there will be no expensive infrastructure, rental or hardware costs – so long as an internal network is present.
Unlike traditional phone systems, which rely on a connection to the phone exchange, a VoIP system is hosted by your internet service provider (ISP). All the necessary equipment and service management is securely handled off-site. This reduces maintenance costs significantly, possibly allowing a school to avoid hiring a technical expert to oversee their system.
As long as there is an active internet connection, VoIP systems also allow staff members to make and receive calls regardless of where they are. In such cases, it's inexpensive and easy to add additional users. This saves on the cost of installing multiple phone lines, which you would need to with a standard phone line system.
School staff efficiency
School administrative staff have a multitude of daily tasks to perform. A VoIP system can help reduce the workload, and potentially reduce the number of manned hours required in the office.
Thanks to Interactive Voice Response (IVR) functionality, schools can benefit from using an automated receptionist which will play a message to incoming callers. Extension options will be provided to the caller, so that they can be put through to the right member of staff or department. This reduces time wasted on calls and follow-ups.
VoIP systems allow office hours to be set, so that the callers are made aware of any periods of closure. This means alternate appropriate messaging / advice will be provided during school holidays or periods outside of school opening hours.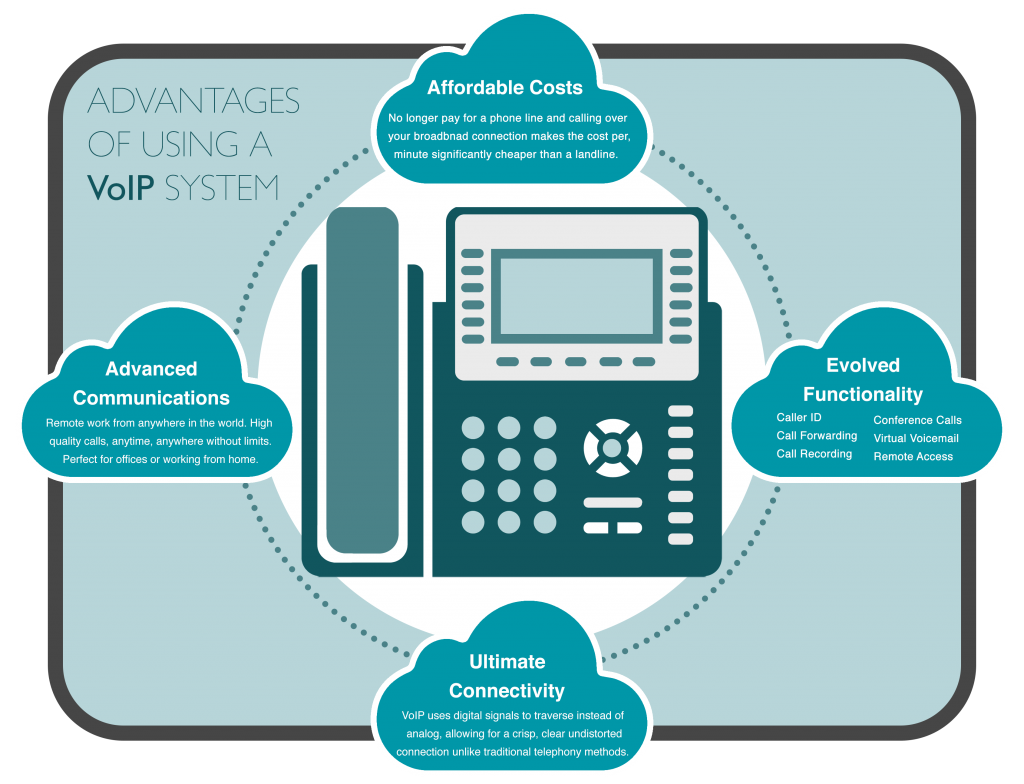 Alternative phone systems for schools
There are a range of telecommunication solutions on the market, but not all are suitable for schools. Although traditional ISDN phone lines can be reliable, their dependency on a phone line means they are no longer future-proof.
SIP trunks and channels are another alternative option for schools. A SIP trunk (Session Initiation Protocol) is an extension of VoIP which uses the internet to send and receive voice calls. However, they can send additional forms of data and multimedia too.
SIP channels are quick and easy to set up, with lower expense compared with PSTN/ISDN services. Nonetheless, VoIP systems tend to be the preferable choice for larger businesses operating in various locations. For schools, the key features of VoIP – such as caller ID, call waiting and call forwarding – are more of a draw.
Finding the right telephone system for your school
If you're thinking about upgrading your school phone system, it's worth considering your current service provider. Combining your expenses into one package can result in a reduction of costs, whilst also simplifying user experience and system management.
Structured Communications are a direct-to-network provider with extensive experience in providing honest, reliable and affordable telecom solutions. We work closely with schools to implement the best connectivity solutions available – including VoIP and SIP trunking. We can lead the way in advising you, whilst offering substantial line saving and running costs.
Please contact us to learn more about how we can support your communication needs.