When moving premises to a new office, you will need to consider what to do with your wireless broadband and telecoms systems.
A relocation can be the perfect time to upgrade. You may wish to switch to an FTTP connection or a fibre leased line, along with a future-proof telephony solution such as VoIP (Voice over Internet Protocol).
Below are some key considerations:
Plan ahead to avoid gaps in service
Too often, businesses fail to do this – the end result being potential delays, issues or unexpected costs.
You won't want to experience downtime or disruption to communications, so get in contact with your chosen internet service provider and give as much notice as possible. The following lead times are likely:
Telephone: at least one month
Broadband: between 6 to 8 weeks
Fibre leased lines: 12 weeks
It can be straightforward to transfer your broadband, especially if it's delivered over a phone line. However, depending on the location, a dedicated line could require some street- and on-site works.
Research before moving premises
In most cases, a business will want to secure fast broadband at their new office. Before moving, it's worth investigating the existing setup to assess whether the internet connection can meet your needs. Research what the minimum guaranteed speed is or run a broadband speed test to gain an accurate insight of speeds at your new premises.
You'll need to know whether your new office environment can support faster broadband connections or, if applicable, a dedicated leased line. Your service provider should be able to check your new site to best advise you.
It might be the case that faster fibre broadband is already installed, which will save you the time and expense of commissioning a new installation. However, you could also find that the product you want is not available for the location of your new premises. If you opt for a non-full fibre connection, it's also worth bearing in mind that the further away a building is from the local telephone exchange, the greater the chance of a slower connection.
Carry out a site survey
Hiring an engineer to survey your new office may be beneficial in the long term. You will gain a clear understanding of the cabling setup, which puts you in a position to decide exactly what needs to be implemented beforehand.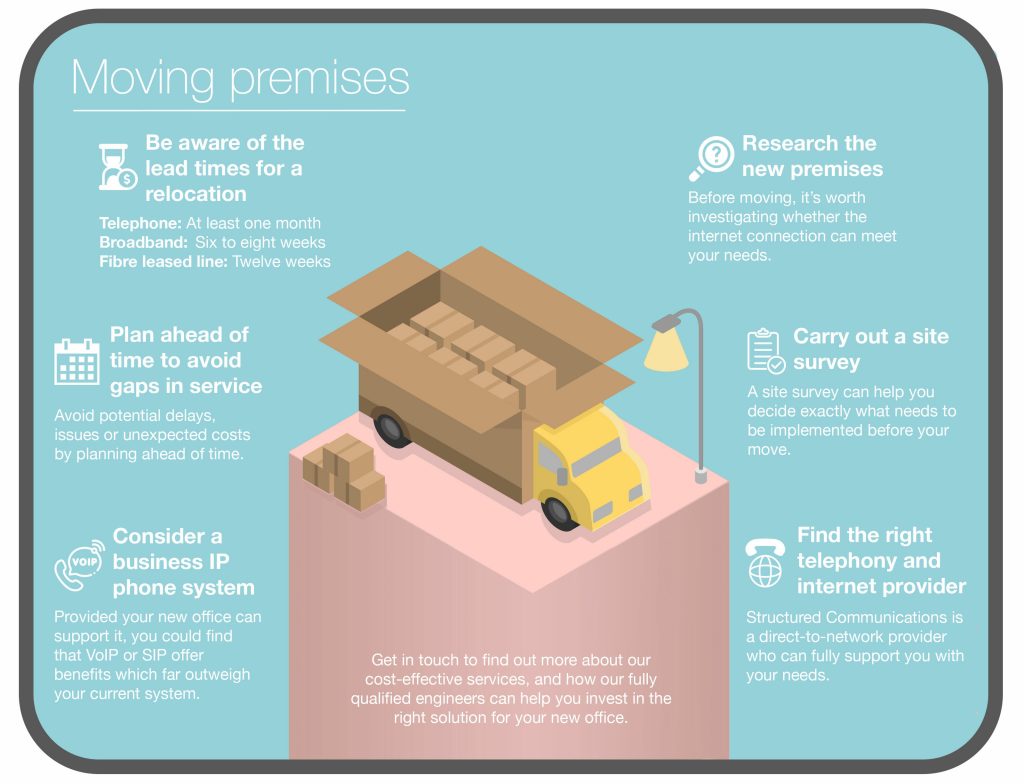 Consider a business IP phone system
With earlier digital telephony (such as ISDN) being superseded by newer technology, companies are increasingly adopting the latest cloud-based options such as VoIP or SIP (Session Initiation Protocol). Since these services are supported by the internet, they afford the ability to scale up or down as required without the need to commission or decommission any physical lines.
Think about how long you have been using your current system and the costs involved in replicating your existing configuration. Openreach has announced their intention to discontinue PSTN and ISDN connectivity by 2025, so investing in a traditional setup might not be cost-effective in the long run. Provided your new office can support it, you could find that VoIP or SIP offer benefits which far outweigh your current system. If you already use SIP or VoIP, there's the possibility to reuse your handsets to significantly reduce setup costs.
Keeping your telephone number
With cloud-based systems, the absence of a fixed phone line means that a company can keep its contact numbers when moving premises, no matter what the geographical location. With a PSTN system, this can only be achieved if you move to a location within the same telephone exchange area.
Bespoke solution vs. self-installation
Looking to migrate or set up your own solution? Unless you have direct access to a team of technical specialists, it is recommended that you use a reliable ISP to fully manage the move of your broadband and phone systems. If you don't know what you're doing, you could end up creating more problems than you were intending to solve.
A managed move can be tailored to your requirements and may come with service guarantees – providing the ISP with an incentive to resolve issues or problems that arise as soon as possible.
Finding the right telephony and internet provider to help you relocate
Structured Communications is a direct-to-network provider who can fully support you with your needs – from installing and transferring VoIP and SIP systems when moving premises, to enterprise-level broadband solutions.
Get in touch to find out more about our cost-effective services, and how our fully qualified engineers can help you invest in the right solution for your new office.