The telephone remains a crucial point of contact in any dental practice. Whether you're scheduling or cancelling appointments, dealing with emergencies or communicating with suppliers, it is essential for dental offices to operate an efficient, reliable phone system.
If you are currently considering a new phone solution for your dental office, there are several suitable options available. Each has its benefits and drawbacks, and your choice will largely depend on the nature of your business.
Digital phone systems on traditional phone lines (e.g. ISDN)
Advantages
Digital phone solutions which don't leverage cloud-based technologies, such as ISDN2e, use a traditional analogue phone line to transmit data. This type of set up can connect handsets or devices when used over an accessible phone line. So long as a line is in place, installing a digital phone system can be relatively straightforward.
Digital phone systems provide a reliable, high-performance service. Useful options such as voicemail are included as standard, and the capacity to handle multiple incoming calls simultaneously is built into the system architecture. This functionality is ideal for dealing with peak-time call traffic, like the start of the working day when high volumes of patients are likely to try to make or modify an appointment.
Disadvantages
Digital telephone systems are subject to the limitations of the physical connection on which they are built. This not only results in higher costs in comparison to IP-based telephony solutions, but also presents questions about scalability, as well as the threat of obsolescence. Openreach has confirmed that they intend to phase out PSTN and ISDN services running on the traditional copper wire infrastructure by 2025. The move has been planned in order to modernise the network and meet increasing demand for IP-based phone systems.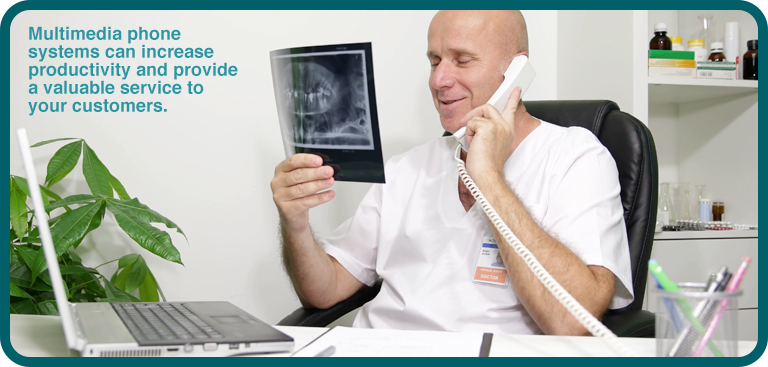 VoIP systems for dental offices
Advantages of VoIP
Voice-over Internet Protocol (VoIP) is a virtual, cloud-based phone system which uses internet connectivity – rather than standard telephone lines – to deliver high-quality audio. This can significantly cut call charges for a dental practice, whilst offering flexible options for expansion, and practical features such as:
Voicemail
This can reduce a patient's frustration when calls are engaged, unanswered or if a receptionist is unavailable. Different messages can be customised for specific scenarios: e.g. during busy periods, when a phone is set to DO NOT DISTURB mode, or when the surgery is closed.
Interactive Voice Response
An automated attendant can be useful for filtering calls to the correct person, therefore saving time and preventing callers from hanging up. It reassuringly greets patients and then gives the caller options to select using their voice (or keypad). The system could also be used to identify the caller and retrieve information specific to their records, provided the correct credentials are supplied, as well as action simple requests like cancelling an appointment.
Call queuing
This places a caller into a waiting list and automatically estimates their wait time and position in the queue.
Call recording
The recording of calls for 'monitoring and training purposes' can help staff to ensure that they are communicating with patients and external professionals effectively and efficiently. You can set an automated disclaimer to play prior to connecting a call which informs the caller that the conversation may be recorded for this reason.
Call transfer
Transfers calls to another user quickly, without the need to physically seek out the appropriate person. With one button, a call can be routed to another device, including mobile phones, or pushed to voicemail.
Disadvantages of VoIP
VoIP services depend on a reliable internet connection and consume considerable bandwidth. Without this, establishing an effective VoIP system is near impossible. However, this is unlikely to be a significant issue for an organisation with access to a capable internet service provider.
During a power outage, it's possible internet connectivity could be lost which would inhibit access to the phone system. However, this is a rare occurrence and some advanced service providers can make sure that calls can still be made and received if the internet fails.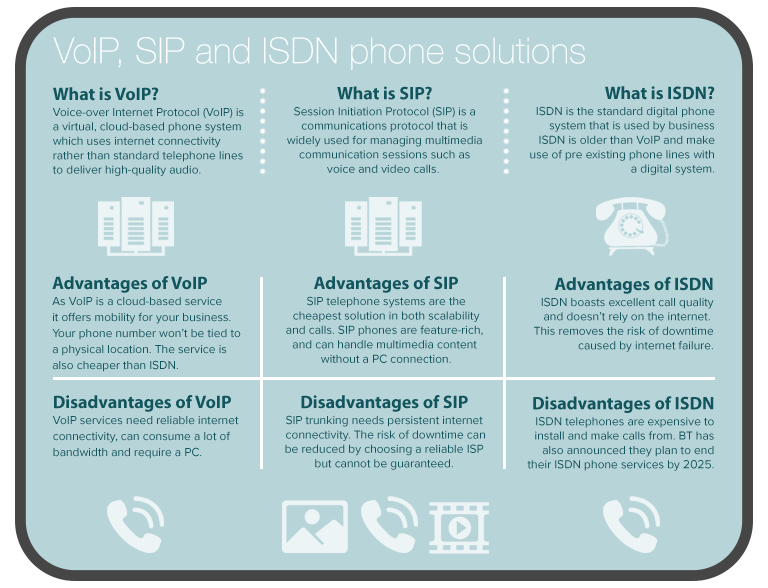 SIP trunks and channels
Advantages of SIP
Like VoIP, Session Initiation Protocol (SIP) trunks also rely on internet protocol to manage voice calls. SIP trunks offer users the opportunity to send multimedia data, which has great potential for dental practices which may need to send X-ray images, share digital records or participate in video conferencing.
Multiple devices can be integrated into a SIP trunk system. They are relatively straightforward to set up, and can be adapted easily to changes in staff numbers or demand.
Costs incurred for phone system usage will be lower than a traditional system over the long run, as money will not be wasted on maintaining redundant lines; you'll only pay for the connections you need and use., increasing or decreasing capacity as required.
Disadvantages of SIP
As SIP trunking also needs persistent internet connectivity, much like VoIP services systems are subject to the reliability of the network. This can be mitigated to a degree by choosing a reliable service provider, although 100% up time can never be fully guaranteed.
Being an IP-based solution, there is also the remote risk of a network security breach interfering with service. Again, a reputable service provider should be able to provide sophisticated solutions to prevent such threats.
Telephone solutions for your dental practice
Choosing the right phone solution for your business might seem complicated, but a good service provider should be able to support you and customise solutions to meet your specific needs.
Structured Communications can simplify and manage your telecom requirements to maximise efficiency. Their highly qualified engineers will offer free and honest advice to help you save money and improve your business connectivity. They are also able to implement a range of enterprise-level phone solutions, including ISDN2e, VoIP and SIP trunking.