VoIP phone systems are designed to send and receive phone calls using the internet. VoIP handsets come in two main types: hardware-based and software-based phones.
A hardware-based VoIP phone looks like a normal phone and boasts many of the usual features, such as speakerphone, user information and caller ID. They also sometimes have a video function.
Software-based VoIP phones are comprised of software installed on a user's computer. Again, these VoIP phones come with the usual features you'd expect such as voicemail, call conferencing and call transfer, as well as additional features such as call forwarding, voicemail to email, call recording, call queues, conference calls and call transfer.
What are VoIP phone systems used for?
Increasingly, VoIP systems are being installed and used for reasons above and beyond basic telephony, particularly for small and growing businesses.
Cost saving
Businesses are often attracted to a VoIP system because of long-term cost-saving implications. VoIP systems offer free internal calls regardless of location, including between remote workers. Some packages also include free international internal calls. If some staff members regularly stay in hotels (and use the phone) there's another cost saving here. Even for external calls, with a VoIP system, international call charges are usually minimal.
A VoIP system is also cheaper to support, upgrade and integrate with other applications, with the added incentive of one broadband contract and invoice (as opposed to one for phone lines and one for the internet).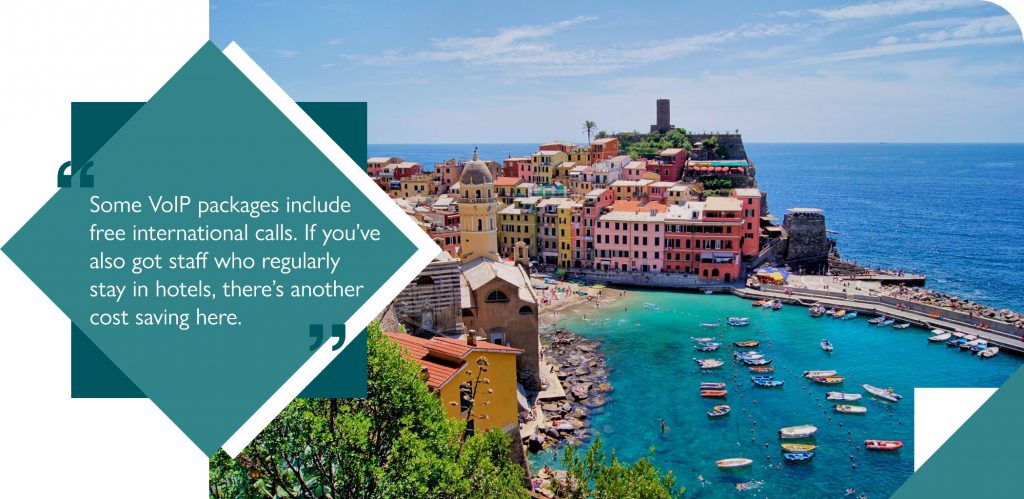 Improved customer experience, brand image and management
Perhaps more than ever, customer experience and the image your business portrays as a brand are vital considerations in a crowded market. Fortunately, there are a range of VoIP features that can assist with this.
Click-to-call, i.e. the practice of allowing customers to click an icon or link on a website to phone a business, can make the delivery of an effective call to action easier. It encourages end users to call you while they're engaged with your website and in the frame of mind to discuss potential benefits, as they relate to their business.
Virtual meetings and three-way (or more) telephone conversations are effortless to set up (in house or with clients). They make communication hassle free, dynamic and responsive – and remove the delay in trying to arrange a call.
Customised messaging played while a client is on hold can also be used as a discrete way to engage your caller and tell them more about your brand.
VoIP phone systems can also integrate with your other communications applications, such as CRM software, meaning you have all the customer information you need at your fingertips whenever you take a call.
With VoIP, you can also opt for a local area code (perhaps one associated with your area of business) or a freephone number, and even have virtual geographic numbers in order to create the right impression and encourage people, who may be put off by less personalised numbers, to call you.
Flexibility
As we move forward, businesses will need to adapt quicker than ever before to changes in working practices and the need to scale a business up or down. VoIP phones can help with both.
VoIP is not location dependent. If your business moves to a new location, or your employees suddenly all start working from home, having a VoIP system will mean that you won't need new phone lines. Staff will be able to take their VoIP phone wherever they go, provided their device is properly configured.
Your business may be going through a period of growth, or you may find that you need to alter your team at very short notice. The advantage of VoIP is that you can scale your system up or down quickly and cost effectively. Users can be easily added or removed to your network as and when required, making your business much more resilient in the face of fast-moving situations or critical events.
VoIP phone systems increase productivity
There are all sort of features available via VoIP systems that can have a positive impact on productivity by reducing unnecessary time on the phone, or making working practices more efficient.
For example, displaying a 'user busy' indicator when a contact is on a call can cut the guesswork and time spent repeatedly trying to connect to someone who may be engaged in a call. Some systems will even tell you who the other person is speaking to, which will give you a heads-up as to whether they should or could be disturbed.
Other helpful VoIP system features
Call park: an efficient way of transferring calls;
Portable extension numbers: allow working environments that use 'hot desking' to seamlessly transfer all the functions and data from one phone to another phone;
Hands-free dialling: frees up your hands, allowing you to multitask.
VoIP phone systems are increasingly becoming recognised both for their efficient telephony provision and flexibility. VoIP systems can make your business more efficient, more dynamic and more robust.
If you'd like to know more about how Structured Communications can help bring the benefit of VoIP services to your organisation, get in touch today.