Finding the best VoIP phone solution for your home or business is an important task. When choosing your VoIP phone system, it's imperative that you pick a model that compliments your individual needs. If you are a large, growing business, you will have different needs to that of someone looking for an at-home IP telephony solution. Here at Structured Communications, we understand how important it is to find a phone system that works for you. That's why we have spent our time researching the best phones in 2020 for VoIP, in hopes of providing you with the perfect IP phone solution.
Choose a VoIP phone based on your individual needs
There's no one model of VoIP phone for everyone. Your choice of model will depend on your priorities and requirements. You will need to assess a number of things before choosing your model, including the number of calls you receive, the size or your business (or home), the quality of your internet connection and whether you would prefer to manage the system in-house or have a provider manage it offsite.
Below are some of the most important things to consider before choosing your model:
Video conferencing: IP phones with in-built cameras will be best for those who need to use their VoIP system to hold video conferences.
Price: A cheap and cheerful solution will be most suitable for you if you're on a tight budget.
Advanced call handling: Extra features are often of high importance for businesses who need to hold and transfer calls easily.
Audio quality and reliability: If excellent sound quality is necessary, make sure to pick a VoIP phone solution that has HD voice capabilities.
Remote capabilities: Cloud-based telephony that allows employees to work remotely or use a work phoneline while travelling is often a priority for businesses.
Some service providers require certain models of phone, so make sure to check with your provider first before you choose a model.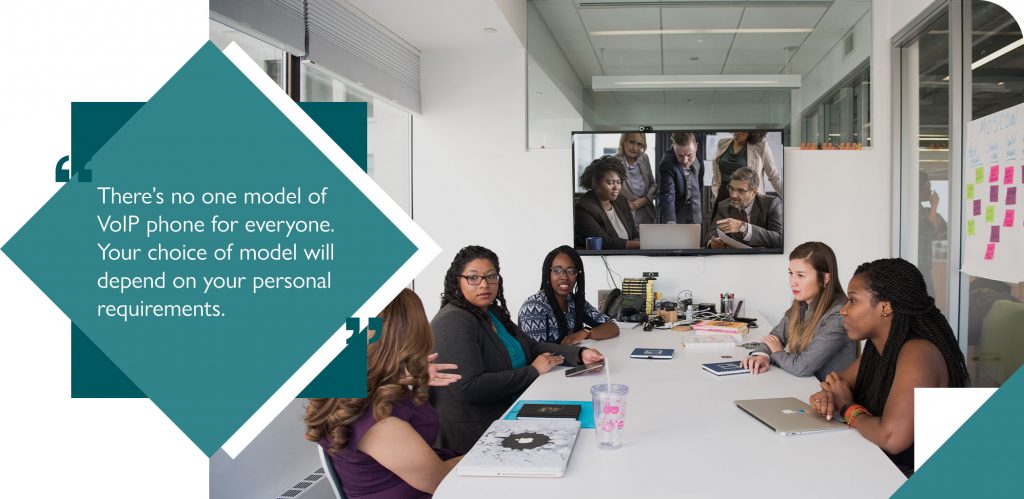 The best VoIP phones of 2020
To make things easy for you, we've chosen the best VoIP phones of 2020 which are specific to the needs of the individual. Whether you're looking for an affordable VoIP phone solution for your home or an advanced IP telephony solution for a large business, we've got you covered.
Best VoIP phone for home use: Gigaset C530 IP
Sleek, compact and affordable, allowing both IP and landline calls, this Gigaset model is perfect for those hoping to use VoIP at home while keeping connected to the landline network. This unique, hybrid device can support up to three parallel calls. If you require multiple telephones across your home, you can expand the system to incorporate six cordless handsets with six unique VoIP accounts. This also makes this particular model suitable for small businesses.
The 3530 boasts a high-resolution display and a sturdy docking station that acts as a core for all wireless connectivity. This model also has brilliant HD voice capabilities, allowing for high-quality voice clarity.
However, what puts this phone above other cordless models are its exciting bonus features. This Gigaset phone allows you to see online information (e.g. from social media and web browsing), download your smartphone contacts to the handset and personalise both your ringtone and screensaver.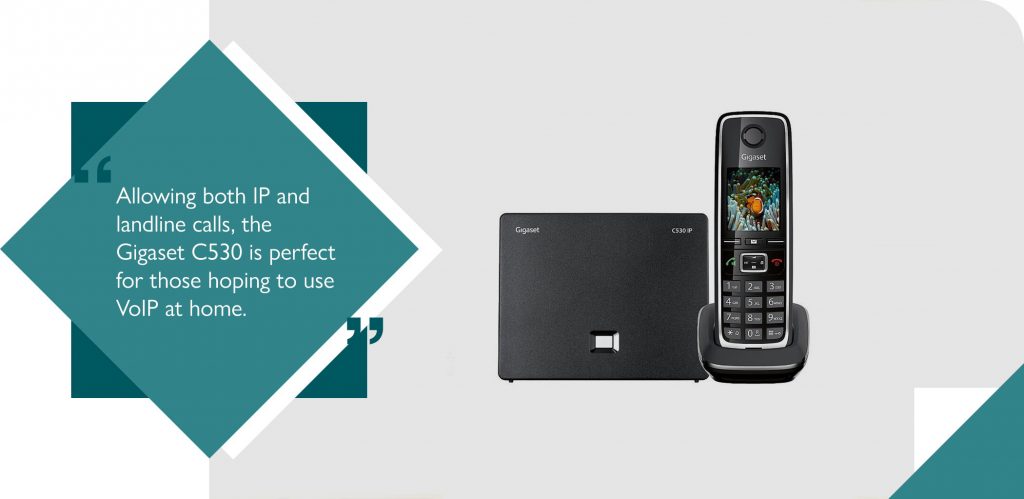 Best VoIP phone of 2020 for a small business: Yealink W52P IP
The Yealink W52P IP phone solution is an affordable model which does not lack in quality. The model offers a sleek and simple design while remaining reliable and inexpensive. Allowing for up to five SIP accounts and four simultaneous calls to be made at once, the Yealink W52P is perfect for small businesses. But don't worry, if your business grows you will easily be able to scale up at a later date.
The cordless design means employees will be able to freely move around the office, with the model offering a great range of up to 300m. The Yealink provides HD sound, is easy and comfortable to use and has plenty of call handling features, including intercom, transfer, 3-way conferencing and speed dial.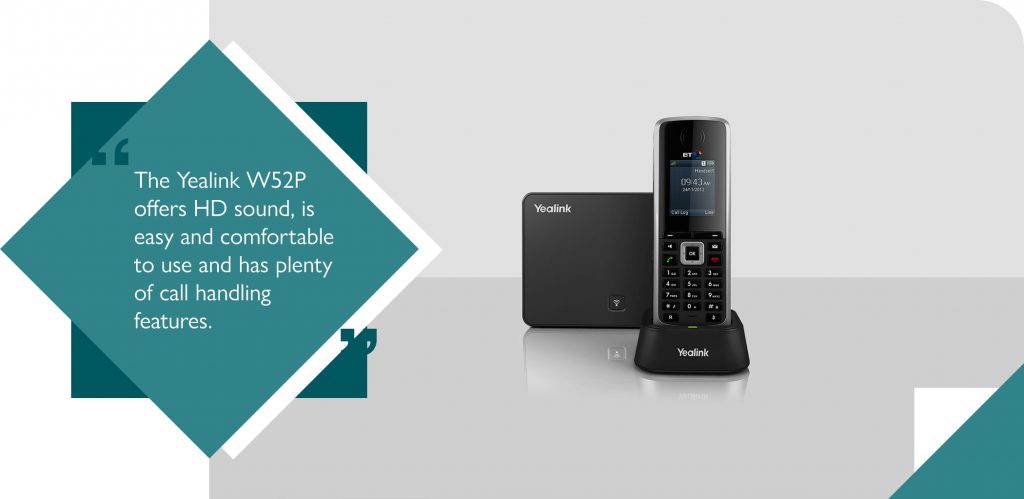 Best VoIP phone for a large business: Polycom VVX 601
The Polycom VVX 600 offers a great solution for large businesses looking for a variety of call handling features. This model has a large 4.3" LCD touchscreen and built-in web applications for enhanced user productivity. Users can access and update calendars, receive notifications and alerts for meetings and access a corporate phone directory.
With an attachable HD 720p camera, users can turn their device into a video conference phone quickly and simply using an integrated USB stick. This handy addition makes this model a cost-effective solution for businesses who require high-quality video and audio-conferencing abilities.
This mid-range model has space for up to 16 SIP accounts and allows for up to 24 calls to be made simultaneously. The dual USB ports can be expanded with up to three expansion modules, making this model perfect for large or growing businesses.
Best VoIP phone of 2020 for a tight budget: Grandstream GXP 1610
Grandstream's GXP 1610 IP phone offers a budget-friendly entry into the VoIP world. The desktop phone has one SIP account and two lines, so would be best for a small business that doesn't experience high call volumes. The LCD display is large and clear, while the handset itself is comfortable to use and easy to configure.
The phone has the standard functions of the average office phone, including call hold, transfer, forward and mute. Despite the low cost, this model also incorporates several bonus features including 3-way conference calls, off the hook auto dialling, auto-answer, hot-desking and dial planning.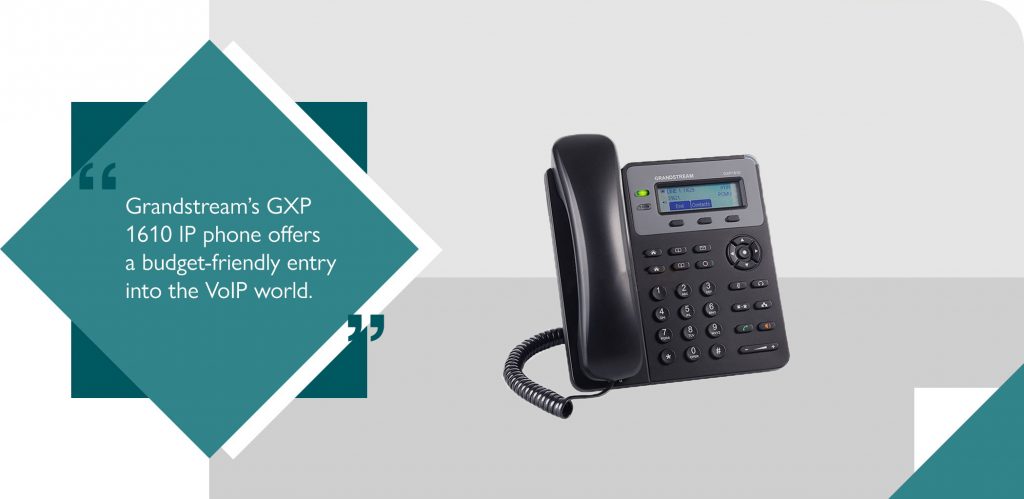 It's not only important to choose the right hardware, but also the right VoIP provider. At Structured Communications, our team of highly experienced technical staff believe in a high level of service and product quality.
We are leading the way in secure VoIP connectivity solutions to all markets, whilst continuing to offer call and line savings on companies' running costs.
If you're interested in our services or want to find out more about VoIP, please do not hesitate to get in touch.