Thousands of companies across the world have now tapped into the huge advantages of upgrading their telephony to a cloud-based solution. But what exactly are the particular benefits of VoIP phone systems for small businesses?
What is VoIP?
In very simplified terms, VoIP (Voice over Internet Protocol) is a solution that allows voice calls to be delivered via the internet, rather than over traditional telephone lines. Instead of relying on local hardware, VoIP calls will be routed in an off-site router.
Associated with a wide range of benefits, VoIP is becoming the go-to telephony solution for businesses and homes across the globe.
Benefits of VoIP phone systems for small businesses
Upgrading to a VoIP phone system is a smart move for an organisation of any size, but will pose particular unique benefits to small businesses.
Scalability
Within their first few years, small businesses will often experience high rates of growth. Unlike a traditional landline telephone set up, VoIP solutions are able to easily grow with your business. New users can be added to your network, or removed, as needed without having to install additional lines each time.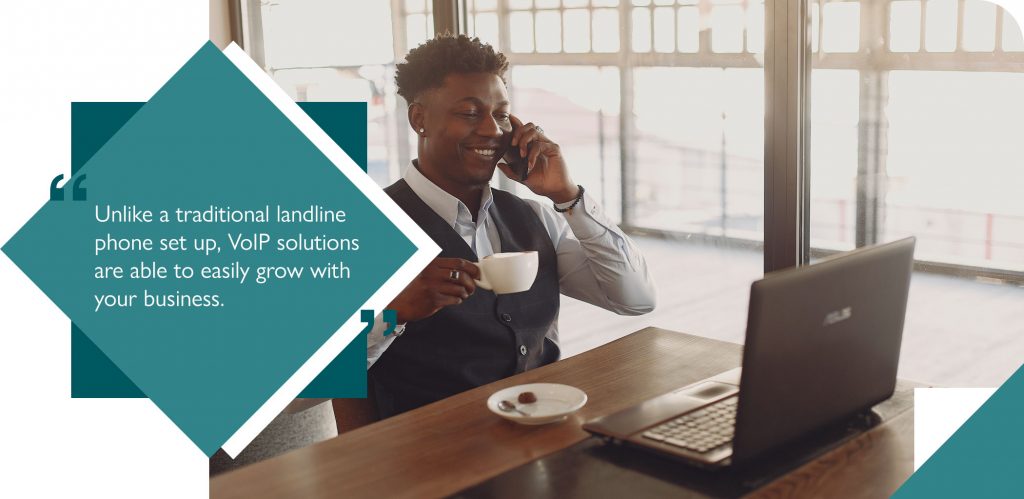 Futureproof
As a small business, it's imperative that you invest in your company's future – including your phone set up. With Openreach's proposed switch-off in 2020, PSTN lines will be rendered useless, as these lines transmit calls on a traditional analogue phone network. This means any businesses still using landlines will be forced to upgrade.
However, as VoIP connects calls via the internet rather than the phone network, it will not be affected by the upcoming PSTN switch off. However, don't forget that if your broadband is still delivered via traditional copper lines, you will need to make the upgrade to fibre optic broadband before 2025.
Remote capability
Businesses of all sizes will often have employees working remotely. Whilst this poses many individual benefits, it can be tricky to ensure consistent levels of communications, both with colleagues and clients.
Fortunately, VoIP poses a solution to this conundrum by providing remote functionalities. Provided that their device is configured to the office network, remote users can continue using the same VoIP number on their mobile phone, as though they were sat at their desk.
Reduced costs
As a small organisation, you will to have pay special attention to operational costs and budget appropriately. Another key benefit of VoIP phone systems for small businesses is the reduced costs.
Rather than having to pay for separate phone and broadband contracts, you will only be obliged to pay for an internet contract, significantly reducing your overhead costs. This also means you will not be tied into a lengthy phone contact – VoIP contracts are typically rolling, allowing you to change as need be.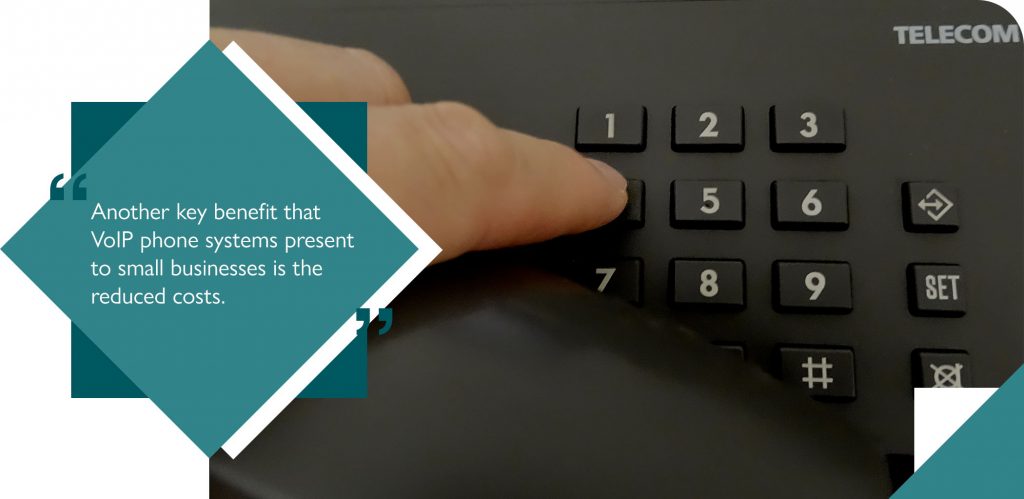 Additional functionalities
As a small business, it's important to give off an air of professionalism to clients and customers, in order to instil confidence. VoIP phone systems offer a host of additional features, including:
Call forwarding
Call queues
Voicemail to email
Music on hold
Call recording
Conference calls
Utilising these features will not only ensure your business looks professional in all external communications, but can also give the impression of a greater number of employees, making you appear more established.
Is VoIP right for all small businesses?
Whilst VoIP is suitable for all businesses regardless of size, before making the upgrade to cloud-based telephony you must ensure that your company is compatible.
The most important aspect to consider is the quality of your broadband. Whilst VoIP is widely regarded as providing high quality calls, this will be dependant on your internet connection. If you do not have sufficient bandwidth, or regularly experience broadband drop outs, it's unlikely that you will be able to make HD VoIP calls.
Calls of inferior quality will undoubtedly have a negative impact on employee productivity, as well as damage your business's professional image. If you are unsure whether your current broadband is sufficient for VoIP, either talk to your ISP or consider upgrading to a superior broadband supplier.
VoIP for small businesses at Structured Communications
At Structured Communications, we have many years of experience in delivering high quality cloud-based phone solutions to small and large businesses across the country, with our customers reporting excellent savings when upgrading to a VoIP phone solution.
To find out more about how we can help revolutionise your company's external and internal telephone communications, please don't hesitate to get in touch.