When on-site communications are neglected, companies don't just risk the health of their finances; the health of their employees and the public is also a concern. After all, any construction site can be a dangerous place to work.
Applying effective communication practices doesn't just save lives – it also serves to build better relationships. Better relationships between employees means better teamwork, and better relationships with clients means repeat business.
As a rule, good communication generally leads to good results.
So how can you improve communications across your sites?
Don't rely on a single comms solution
Providing your workforce with options for communication ensures the most effective method is always available. For instance, rather than relying entirely upon direct line-of-sight verbal communication (i.e. shouting and hand signalling), two-way push-to-talk radio can make it easy to co-ordinate site activity in the moment, as it allows access to anyone anywhere.
While it is a popular solution, the effectiveness of two-way radio doesn't mean you should rule out any other types of tech. Having access to a variety of options, from instant messaging to VoIP (Voice-over IP), will empower your employees to communicate effectively in different scenarios for a multitude of purposes. For example, while PTT radio is perfect for co-ordinating an on-site installation as it happens, you're not going to be using the same system to communicate with remote workers and other off-site project stakeholders.
The other advantage is that it builds a degree of redundancy into your comms set up. Should one of your systems fail, having an alternative means your site is less likely to suffer a communications breakdown in the event of a serious technical issue.
Invest in a reliable communications system
Good communication can dramatically reduce the time it takes to recover from a crisis, or even prevent a problem from occurring in the first place. It therefore makes sense to implement a reliable communications system – think of it as a way to safeguard your business for the future.
While your two-way radios will be able to work independently of the internet, many other solutions will require you to have persistent internet connectivity. Ensuring reliable performance from your broadband should therefore be a high priority.
Bonded broadband and fibre leased lines
If you can, opt for a connection which offers a guaranteed level of resilience against an outage or drops in performance. In addition to offering a speed boost, investing in a bonded broadband solution will guarantee peace of mind when it comes to the persistency of your connection. Bonded connections use multiple lines, which means an outage on one will not noticeably impact on your broadband's performance.
If your site is likely to struggle with fibre broadband because of the sheer level of demand, or unlikely to experience much of a performance benefit from a bonded connection, you may need to consider a fibre leased line. This is a dedicated and uncontended connection just for you – so expect consistently high performance without any peak-time slowdown, symmetrical upload/download speeds and no data caps. In addition, a leased line will often come with a guaranteed service level agreement guaranteeing constant uptime.
The last thing you want when tackling a disaster is a slow or broken connection. With a fibre leased line you should never experience this type of scenario.
However, no system is perfect. In the unlikely event that something did go wrong with your connection, a leased line will always receive prioritised maintenance within an agreed timeframe – a service you will not be likely to receive when subscribing to standard fibre broadband.
The flexibility afforded by IP telephony
Another important consideration when setting up site comms is the need for staff to remain in contact regardless of site location or size. Implementing a VoIP calling solution can help in this regard as it is non-geographic by design – users are not tied to physical lines, nor do they need to be connected to the same network. It doesn't matter whether they are present on-site; if they have a data connection they can participate in the conversation.
VoIP systems also add significant value in terms of the potential for cost reduction. Being untethered from a physical phone network, means staff can travel between different sites and projects, and still remain in contact with both the site and project stakeholders. They're also a boon when it comes to employing temporary staff, as additional numbers can be added or disconnected as and when required, without the need to wait or pay for lines to be commissioned or decommissioned.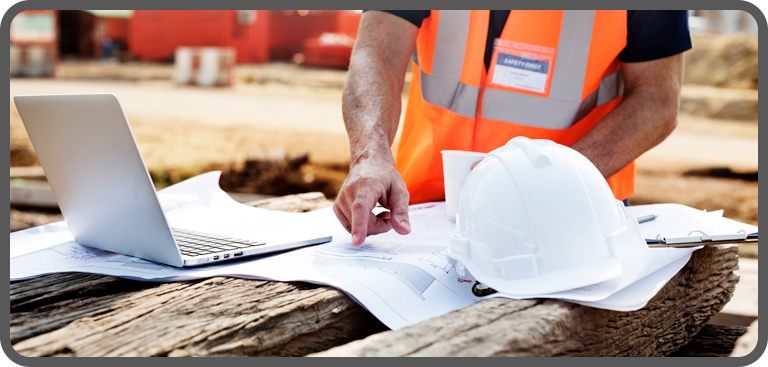 Using your connectivity to stay organised
A reliable and resilient on-site broadband connection doesn't just create new possibilities for better verbal communication. To run an efficient operation, everyone needs to know what they are doing and when. To that end, you'll need a system in place that allows for effective administration – and a key component of this will involve establishing good lines of written communication.
Record keeping and project management both become more manageable with online collaborative tools. For example, a hosted cloud storage solution like Dropbox or MS OneDrive will benefit project stakeholders and employees, as it will ensure everyone involved always has access to important documents such as CAD blueprints or site manuals.
Similarly, task delegation and project progress can be communicated and tracked efficiently using a popular project management tool such as Asana, Trello or Basecamp. Each product favours a different workflow style, so finding a suitable system for your project will require a little experimentation.
Improving communications on a construction site takes work, but it's worth it when you consider how important this is to your success. Luckily, help is at hand. Take the first step today by putting your trust in the experts. At Structured Communications we have many years' experience working with partners in the construction industry to make building projects run more efficiently. Contact us today to find out how we can deliver the right solution for your needs, wherever your site is based.