A revolution in internet service provision is taking place, which has the potential to encourage the growth of emerging technologies and change the ways we choose to work and collaborate.
Ultrafast broadband is beginning to provide download speeds and latency times that could lead to data-intensive applications such as virtual reality and real-time telepresence being both achievable and commonplace.
A new generation of internet infrastructure will be required to achieve this, and leading the way is a fully fibre-optic data transmission method: FTTP or Fibre to the Premises.
What is 'ultrafast' broadband?
Home FTTP broadband can deliver download speeds faster than current fibre packages. Starting at a modest 40Mbps, speeds scale to around 330Mbps. Dedicated leased line connections have the potential to exceed 1Gbps and eventually scale up to speeds approaching 10Gbps.
In the UK, broadband download speeds fall into pre-defined classes. While government communications watchdog OFCOM has been responsible for setting these categories, ISPs can be more 'fluid' in the way these terms are used in their marketing.
The classifications are roughly outlined below:
Standard: up to approximately 8Mbps
High speed: reaches speeds up to 24Mbps
Superfast: up to 80Mbps
Ultrafast: up to 330Mbps

Performance vs delivery
The problem with this terminology is that it masks the method of delivery to the consumer: while it helps the end user to gauge the performance of an internet package, it does not distinguish how the connection arrives at the premises.
The method by which the end user will receive their connection has the potential to influence their decision making. Some questions this may give rise to include:
Is the service delivered through a fixed line or wireless technology?
Is the delivery infrastructure available in my local area?
Will my location have a negative effect on download speeds?
Given that different services come with their own strengths and drawbacks, selecting the right package can be a little tricky without committing to some research.
How have Internet services been delivered until now?
Most UK residential and commercial consumers will have access to some form of high-speed or superfast broadband. The actual download/upload speeds they receive will be subject to the distribution infrastructure being used (copper wires, hybrid copper/fibre optic cable), as well as the distance from either the local telephone exchange or on-street cabinet where the fibre connection terminates.
Fibre-to-the-Cabinet (FTTC)
Superfast broadband typically reaches homes and businesses via a solution known as Fibre to the Cabinet (FTTC).
In the broadband FTTC model, data is transmitted from the provider via fibre optic cable to a cabinet in the street. The cabinet is then connected to the user's premises with traditional copper (telephone) wires.
The 'final mile' connection from the cabinet can impact on the data speeds experienced by the user, as the signal carried by copper wires deteriorates over distance. Copper wires can also be fragile and are prone to the existing weather conditions, causing further signal deterioration (or 'attenuation') on the line.
ADSL vs FTTP broadband
The phone network is still used to deliver broadband services. ADSL (Asymmetric Digital subscriber line) continues to be a popular solution because it is low cost and the infrastructure is ubiquitous — making this a basic offering available from most ISPs.
ADSL connections can provide both standard- and high-speed broadband — the latter being achieved through an improved version of the technology known as ADSL2+. As the signal is carried across phone lines, the distance of the end user from the local telephone exchange can affect the quality and speed of the connection.
In general, greater distance = slower speeds. Attenuation due to physical quality of the line will also need to be factored in.
More data, more quickly
FTTP can also provide a significant boost to network capacity. Compared with a premises using a superfast connection, an FTTP-connected building can handle a far greater volume of simultaneous users. This makes FTTP attractive for large businesses or locations housing a large volume of people (e.g. hotels, hospitals, schools, etc). FTTP can also effectively future-proof organisations that anticipate growth.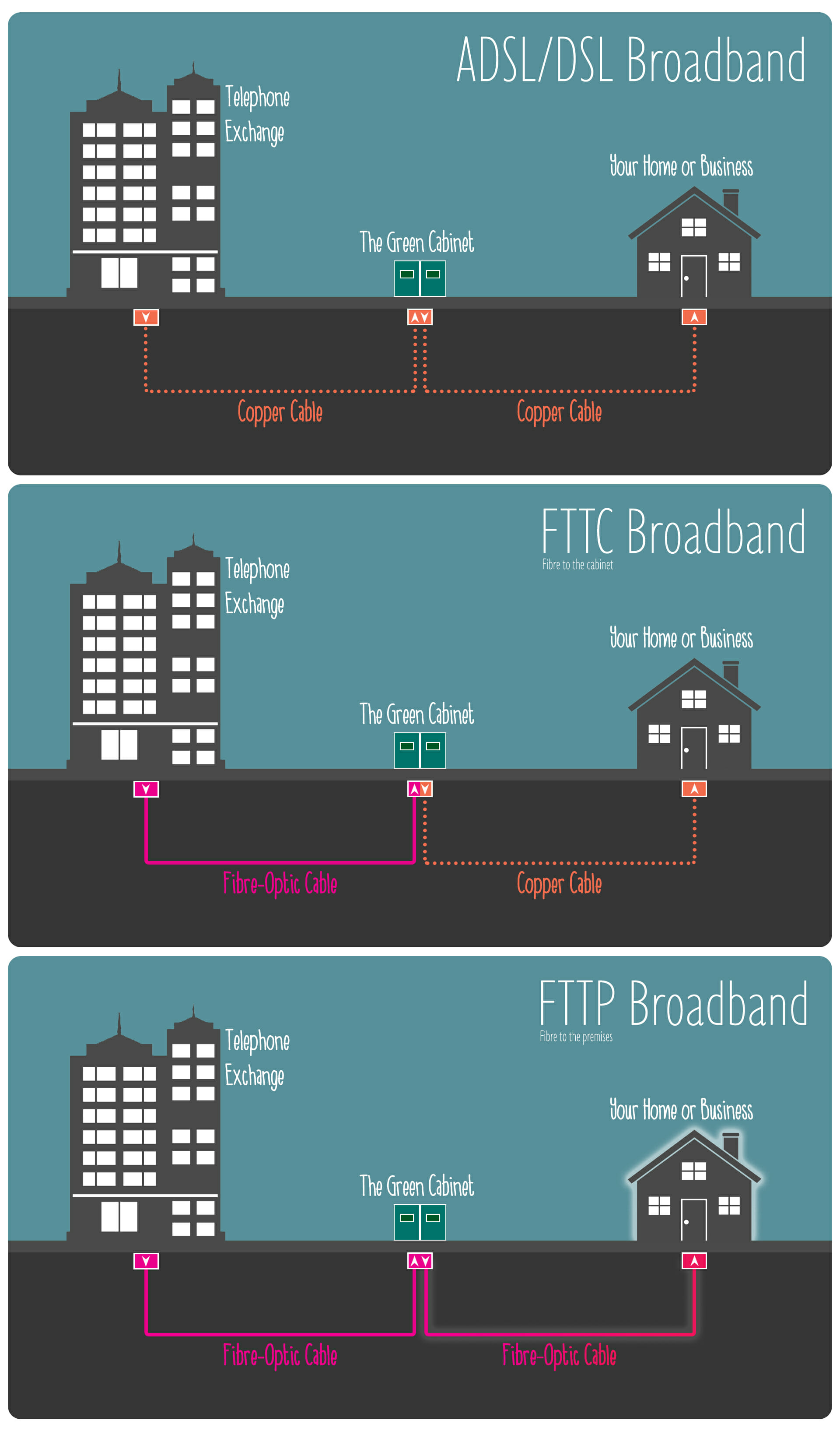 Who needs an FTTP connection?
Commercial industries
The ability to handle large volumes of data at very high speeds makes FTTP a natural fit for businesses dealing in high-volume data transfer. Datacentres and cloud servers are obvious beneficiaries: a full fibre network offers greater physical resilience versus a network that includes copper-wire transmission.
Other business sectors may also benefit from full fibre networks. For example, the need to move large volumes of data securely and quickly has implications for:
healthcare provision
banking
security services
transport infrastructure management
Non-commercial applications
Fast, high capacity networking is perfect for non-profit research institutions and schools. FTTP is also being leveraged in service of the online gaming community, due to the reliability of a full fibre network, the speed it provides, and the capacity for transmitting large amounts of information at once.
As FTTP becomes more commonplace, the ability to support other emerging technologies in the domestic space will be a selling point offered by service providers – for example, the growing ecosystem of 'smart' infrastructure and interconnected devices (aka 'the Internet of Things') will benefit from users having robust home FTTP connections.
Where is FTTP available?
FTTP is still a long way from achieving critical mass. At present, somewhere in the region of 3 per cent of UK premises have access to full fibre networks.* This is set to increase significantly as more competitors have entered the market and pledged to invest in infrastructure.
[*As at November 2017, according to OFCOM – Source: Connected Nations Report 2017].
The Government has set an ambitious target for FTTP rollout in the UK, with 15 million premises expected to have access by 2025, and complete UK-wide coverage to be achieved by 2033.**
[**Stated by Chancellor Philip Hammond in his 2018 address to the Confederation of British Industry]
Established telecoms players Openreach and Virgin Media have both announced that they will extend their full fibre networks to two million premises by 2020, with other providers such as Structured Communications and Hyperoptic rolling out their services to major metropolitan areas across the UK.
The impact of FTTP speed is perhaps most notable in rural areas – traditionally afflicted by poor connectivity. It's become increasingly common for FTTP to replace slow ADSL connections in the countryside, redressing a historic disparity in download speeds when compared to urban locations.
In addition to targeted regional development, FTTP providers are installing connections into new-build properties and social housing projects — an initiative that began in 2016 with an agreement between the Government, the Home Builders Federation and Openreach (who are acting as the primary facilitator, alongside Virgin Media).
Package pricing
Just as with traditional broadband packages, FTTP pricing is tiered according to speed, data usage and contract length.
Overall, home FTTP broadband is more expensive when compared with other broadband services, although at the lowest end prices are comparable to existing superfast connections.
For example, Structured Communications' entry-level package is a 40Mbps connection at £38.99 for a 12-month contract. At the other end of the scale, a 330Mbps connection under the same terms is priced at £74.99.
Enterprise customers can generally expect to pay more for any internet solution. However, they will have more say and flexibility – with the possibility to create a bespoke service offered by some providers.
Do I need FTTP?
Before making the jump, it is worth assessing:
your current data usage;
whether an FTTP connection will be necessary for your needs — both now and in the foreseeable future – is that extra speed and capacity needed?
if VoIP (voice over internet protocol) technology will be needed
if FTTP infrastructure has arrived in your area.
When choosing a package, you may then wish to consider:
the specific contract terms and any service level agreements;
whether the connection is 'contended' (i.e. if lines are shared, which could affect speeds);
any one-time or ongoing fees applicable to a service agreement — e.g. will you pay extra for priority support?