When it comes to reducing costs, enabling remote working, scalability and efficiency, a VoIP phone system can make a huge difference.
So what does it take to get a VoIP phone system up and running?
Preparing and planning for a VoIP phone system
What are my options?
Your first task should be to identify what features you want (or which best meet your requirements), the approximate number of users and expected call volume.
In terms of features, there is nothing wrong with being ambitious, but consider your situation pragmatically. For example, will you want unique phone numbers for each employee? Is conference calling going to make life easier? Do you want the option of using mobile apps to interact with your administrative or user functionality? Is the system to be installed in a corporate environment or your home office?
If you are not sure what functions are available or best meet your needs, it may be worth speaking to an expert. This can also help you to establish an approximate ballpark figure for system costs.
Understanding project parameters and limitations
The next stage in your plan should be to identify your budget, time frames and current internet capability.
You need to establish whether you have the bandwidth necessary to handle the volume of users and calls you anticipate. It is also important that your broadband connection is fast and stable. This is especially true if you plan on having all employees use the VoIP system.
Again, speaking with an expert or experienced team of telecommunications professionals could help with this. As a rough rule of thumb, a 500 Kbps upstream connection will support five lines at most; a 10 Mbps upstream connection could support 100 lines – assuming the broadband connection is dedicated and uncontended.
If your internet connection is lacking, this doesn't mean you cannot install a VoIP system. However, it will be better to resolve any issues beforehand, rather than after your system has been installed.
Once the above has been determined, you can begin approaching service providers, order any hardware (although this isn't always necessary) and schedule the installation, configuration, and going live dates.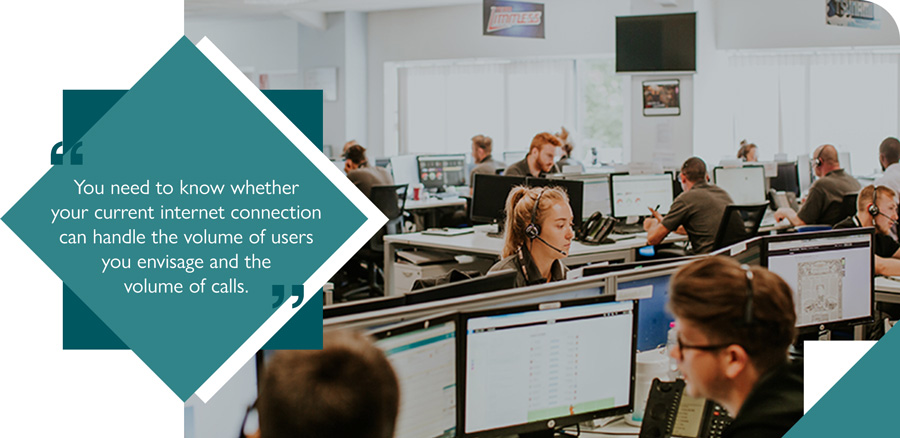 Setting up a VoIP phone system
The exact nature of your setup will depend on the system you have chosen. For example, you may need a private branch exchange (PBX) box. This is a piece of equipment that works in conjunction with your internet service provider to receive and forward calls. If you have your own, the first step will be to install it and then make the connection with your office router via an Ethernet cable.
Alternatively, your VoIP system provider may be able to host your PBX on their own servers. This will save you the trouble of installing and maintaining one at your office.
With some VoIP systems you can make calls with an app on your computer or mobile device. If this is the case, no further physical set up will be required.
Alternatively, you may have opted for desk phones, in which case these will need to be connected to your network. This is normally as straightforward as connecting each phone to the PBX box or router with an Ethernet cable (although some operate wirelessly).
Configuring your VoIP phone system
If you are setting up by yourself, configuration will be handled via the settings menu in your system's administrative software. From here you can set up extensions for your team and allocate voicemail storage. If you have a mobile app option, you will first need to install the package from an app store and then log in with the details supplied by your VoIP service provider.
In addition, you may find that your system has a firewall in place. This may require help from your provider to negotiate. The exact details of your set up will always vary depending on your provider.
Are you ready for a new VoIP system?
VoIP telephony comes with many advantages, including operating cost savings. Most systems are quick to install and relatively easy to use.
If you have any questions about VoIP phone systems or how to set them up, get in touch with us. At Structured Communications, our experienced and knowledgeable team is always happy to talk you through the options that are available.